Event
On-demand Seminars for AY2023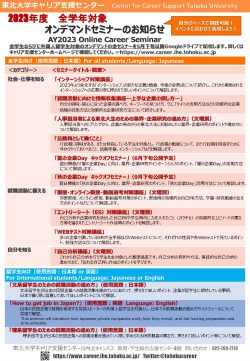 PDF
On-demand Seminars for AY2023 are now available.
[How to View]
Click on the seminar title and log in with your DC email.
You can access Google Drive where the seminar videos are stored.
After watching the seminar, please fill out the survey.
When you are displayed saying "access privileges are necessary", please change it to the DC e-mail address. As we cannot confirm the current student other than the DC email when an authorization is requested, we do not approve it.
◆For all students (Language: Japanese)
◇Learning about society and work
 Internship preparation course
 Lecture on Information Gathering for Job Hunting – How to Find a Good Company
 How to research industries and companies for Tohoku University students (humanities)
 How to research industries and companies for Tohoku University students (science)
 Working as a civil servant
◇Preparing for Job Hunting
 Interview, Online Interview, and Video Screening Preparation Course (humanities)
 Interview, Online interview, and Video Screening Preparation Course (science)
 Entry Sheet (ES) Preparation Course (humanities)
 Entry Sheet (ES) Preparation Course (science)
 Web Test Preparation Course
◇Know Yourself
 Self-analysis course (humanities)
 Self-analysis course (science)
◆For international students (Language: Japanese or English)
How to get job in Japan? (Language: English)
How to proceed with job hunting for international students in the humanities (Language: Japanese)
How to proceed with job hunting for international students in the sciences (Language: Japanese, English subtitles)