Event
Tohoku University's special booth at "就活ひろば" is now open!
Information on 139 Special Cooperation Program companies and organizations (companies and organizations participating in the 2022 Career Job Fair) is available in a special Tohoku University booth on the Metaverse application "就活ひろば".
You can research companies and industries, and look for internship information.
Information is updated as needed.
*The special booths do not have the ability to interact with companies. You can visit the publicly available information anytime you like.
◆Target: All grades
◆Language: Japanese
◆Open period: September 20, 2023 (Wed.) to March 31, 2024 (Sun.)
◆For more information (PDF)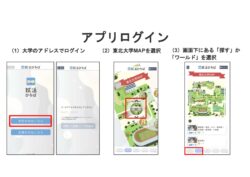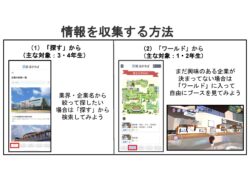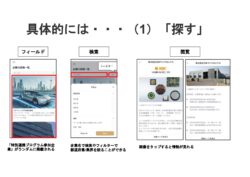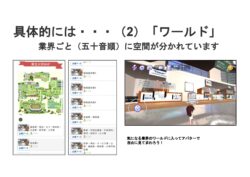 (1) "探す" function allows you to search by industry, company name, etc.
(2) "ワールド" allows you to browse materials at booths for each company.
Image of "探す"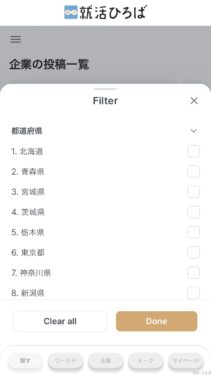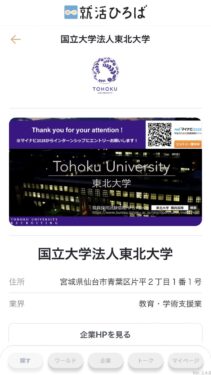 Image of "ワールド" function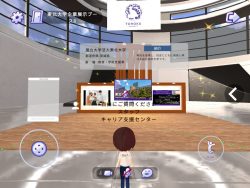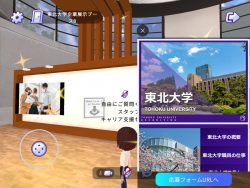 ◆Downloading the Metaverse Application "就活ひろば"
 Click here for information on compatible devices and required specifications.
 ▼If you are viewing from a PC, please read the QR code below with your smartphone or tablet.
 


 ▼If you are viewing this page from a smartphone or tablet, please tap.
 ・Click here to download from the App Store.
 ・Click here to download from Google Play.
 Please be sure to use your DC email address when registering.
 If you register using an email address other than your DC email, the Tohoku University space will not be displayed.